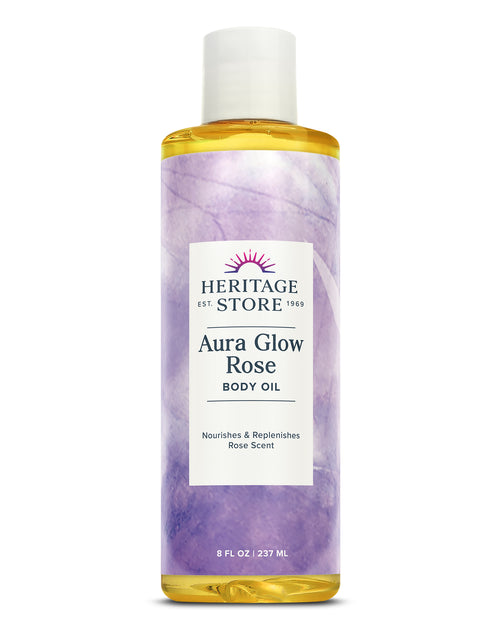 Nourish your skin and soul with Aura Glow Body & Massage Oil in Rose. Designed to be easily absorbed into your body, our rich, nourishing combination of vitamin E, almond, and a combination of softening oils deliver soft, supple skin.

Details
Aura Glow was created in the 1970s, as a way to keep your body beautiful and your mind relaxed and nourished.
• Rejuvenates and replenishes your skin.
• Can be used as a daily massage or body oil, or as a cuticle treatment.
• Insider tip: Apply after you step out of the shower for maximum absorption.
How to Use
Apply after bath or shower to soak into skin, or add a few drops to your bath to unwind. Can also be used as a moisturizer, massage formula, or as a hydrating hair oil.
Ingredients
Arachis Hypogaea (Peanut) Oil, Olea Europaea (Olive) Fruit Oil, Lanolin Oil, Parfum (Rose), and Tocopherol.
Body & Massage Oil
Cruelty-Free
Free of Dyes
Free of Alcohol
How We Like To Use
This is a true skin soother -- your go-to when it comes to needing a refresh, or when you just need to seriously hydrate your skin.
Our Top Ingredients
Vitamin E is a powerful antioxidant that helps nourish and protect your skin from damage caused by free radicals.
YOU MAY ALSO LIKE
Sorry, there are no recommended products.