Heritage Store was born in 1969, an era known for its good vibes. Our Founder, Tom Johnson, gave up his corporate life to seek deeper meaning and inspiration through the teachings of the Association for Research and Enlightenment in Virginia Beach. Passionate about the concept of the mind-body connection, he opened a wellness shop and called it the Heritage Store.

The store soon became a special space devoted to positive energy and community — it was even where our much-loved Rosewater was created! A lot has changed in the past 50 years, but we still champion and celebrate minimal-ingredient products that are good for people and the planet.

Soul-to-skin beauty started here.
WHAT'S THE STORY?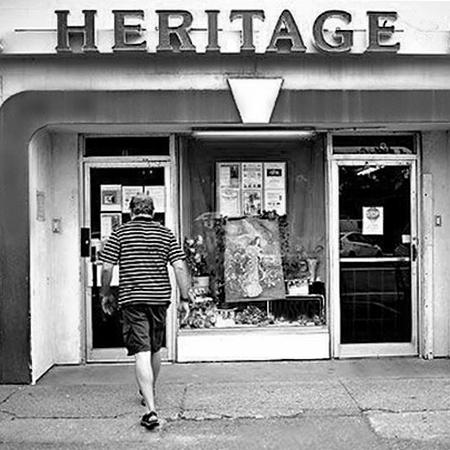 The 1960s
Tom Johnson left his corporate life in 1969 to seek deeper meaning and inspiration by way of Virginia Beach and the holistic teachings of the Association for Research and Enlightenment. Tom opened a small storefront to create and sell wellness products, starting with Atomidine®, IPSAB Oral care, herbal tonics, and Castor Oil for full body wellness. He named his new business Heritage Store.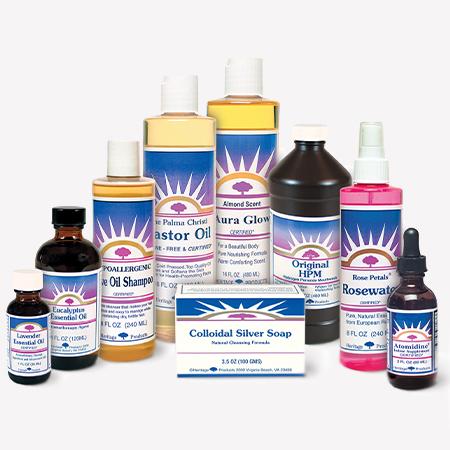 The 1970s
The store quickly became a much-loved favorite stop for those looking to feel better about their body and mind. Our signature Rosewater came next — two simple, awakening ingredients to refresh the skin and mood. Aura Glow™ was soon created — the line of high vibrational massage oils designed to elevate the aura and make the body beautiful. It was joined by more Edgar Cayce formulas* with essential oils, such as Temple Healer™, Scarmassage® and Egyptian Oil™.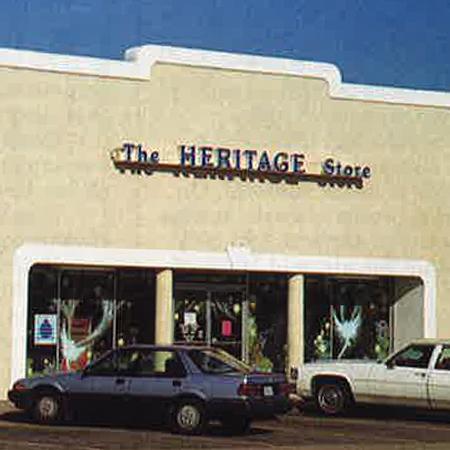 The 1980s
Tom moved to a larger location in the 1980's, seeking to become "the store you love to explore with everything for holistic health all under one roof." The Heritage Center included massage therapy, while Tom expanded into both an ice cream shop and an old drugstore to turn them into an organic cafe/deli and a bookstore — complete with an atmospheric pond, crystal and gemstone jewelry, chair massage, listening stations for etheric music, a smudge and incense room, and the largest selection of metaphysical books in the Mid-Atlantic region.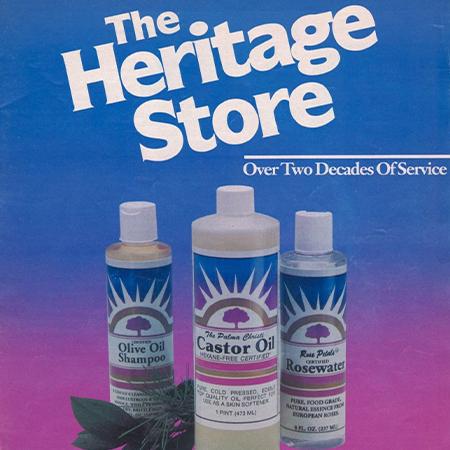 The 1990s
Heritage Store carried a variety of wellness products made with your body and soul in mind. In addition to Rosewater, Castor Oil, and Aura Glow™, the brand offered various tonic formulas, toothpastes, Hydrogen Peroxide Mouthwashes, Grapeseed Oil, and more. In 1994, we celebrated our 25th year of providing wellness solutions to anyone looking for soul-to-skin beauty. Tom also brought in a 900 lb. quartz crystal from Arizona to center the store in high vibration. And did we mention Heritage Store offered a psychic hotline during this time? Because we did.
The 2000s
In 2010, Heritage Store was picked up for New York Fashion Week and soon became makeup artists' must-have backstage staple. We began to appear in media outlets regularly — our signature Rosewater was lauded in People, Martha Stewart Living, Glamour, and NYLON. Our newer products like organic Black Seed Oil, Black Castor Oil, and Nascent Iodine that were developed based on world healing traditions became popular as well.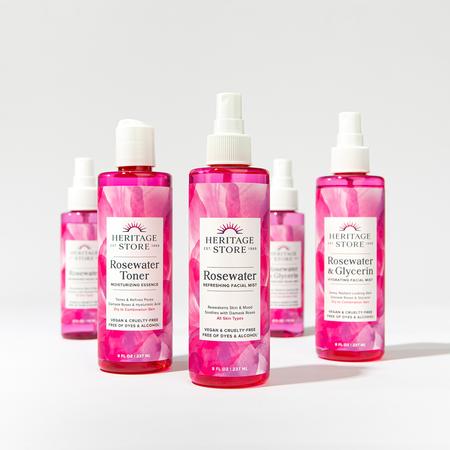 Now
We celebrated our 50th anniversary in 2019, and have no plans to stop. Heritage Store is now a much-loved signature favorite to all clean beauty lovers and wellness seekers everywhere. We even recently treated our iconic packaging to an upgrade! Same formula, just now with a new, nature-inspired look. Our history is a testament to the human spirit, and to enlightening life's journey with clean, minimal ingredient products. Soul-to-skin beauty forever.

* Some products listed may have been discontinued over the years.