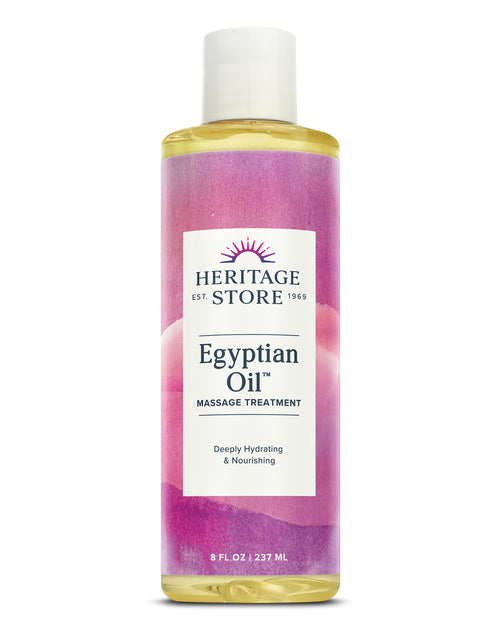 Silkier skin. Restored body. Vibrant spirit. A well-nourished, cared-for body is essential to a vibrant, authentic spirit. That's why a healing massage with Heritage Store Egyptian Oil™ is the perfect therapeutic treatment for your whole you.

Details
Combining the hydrating richness of mineral, olive and peanut oils with moisture-locking lanolin, our formula also helps to soothe and smooth your skin while helping you to relax with fir needle oil. Pair our rich, highly absorbent oil with a luxuriously relaxing massage to relieve overworked muscles and joints and allow the clean, invigorating aroma to enliven your spirit.
How to Use
Soften your skin and promote relaxation with Egyptian Oil™ – the warming, soothing massage formula that's made for your skin and loved by your spirit. Edgar Cayce recommended this formula to massage, nourish and soften the skin and underlying tissues.
Ingredients
Mineral Oil, Arachis Hypogaea (Peanut) Oil, Olea Europaea (Olive) Fruit Oil, Lanolin Oil, Fragrance, Abies Balsamea Oil.
YOU MAY ALSO LIKE
Sorry, there are no recommended products.