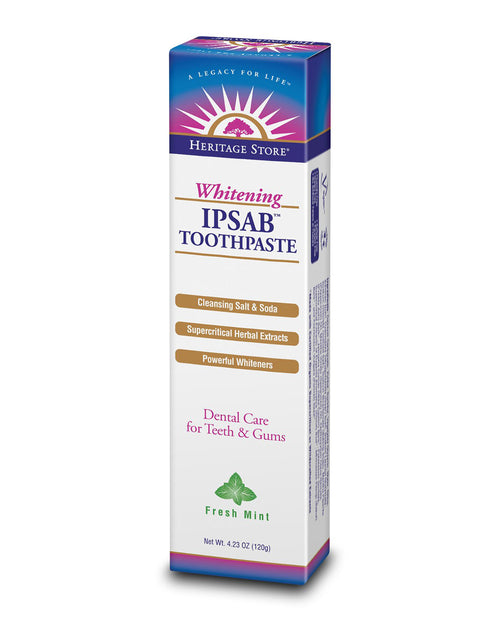 This gentle yet powerful whitening toothpaste uses prickly ash bark, salt, and soda to clean teeth, while wild castor bark and silica brighten teeth. A natural way to get fresh breath.
Details
This cleaning and polishing toothpaste whitens for a sparkling smile.
• Formulated with food-grade ingredients to clean tooth enamel and gums.
• Peppermint and spearmint oils naturally freshens your breath.
How to Use
Brush teeth twice daily or after each meal. Do not swallow.
Ingredients
Calcium Carbonate, Xylitol, Sorbitol, Vegetable Glycerin, Water, Silica, Xanthan Gum, Cyamopsis Tetragonoloba (Guar) Gum, Sodium Lauroyl Glutamate, Sodium Chloride (Iodized Salt), Sodium Bicarbonate (Baking Soda), Mentha Piperita (Peppermint) Oil, Mentha Viridis (Spearmint) Oil, Zanthoxylum Clava-Herculis (Prickly Ash) Bark*, Jatropha Curcas (Wild Castor) Bark*, Potassium Sorbate, Supercritical Extracts of Eugenia Aromatica (Clove) Bud*, Mimusops Elengi (Bakul) Bark*, and Foeniculum Vulgare (Fennel) Seed*. *Made with organic, supercritical and wildcrafted extracts.
Whitening Toothpaste
Vegan
How We Like To Use
We love the whitening, refreshing power of the prickly ash bark, paired with the refreshing peppermint taste.
Our Top Ingredients
Prickly ash bark is an herb often used by Native Americans for its wellness properties.
YOU MAY ALSO LIKE
Sorry, there are no recommended products.